Vale Blagoeva
Valentina Nappi
Valeria Valois
Valory Irene
Vanessa
Vanessa B.
Vanessa Del
Vanessa James
Vanity
Varvara
Vassanta
Velicity Von
Venera (Sexy)
Veronica Aimee
Veronica Morre
Veronica Rose
Veronica Vanoza
Veronica Vaughn
Veronika (CzechCasting)
Veronika I.
Veronika Mars
Veronika Pagacova
Veronika Zemanova
Via Paxton
Vica
Vicky Chandler
Vicky Soleil
Vicky Vixen
Victoria Cross
Victoria Lane
Victoria Ramos
Victoria Scarlet
Vida Sadora
Vika
Viola (Australia)
Viola Bailey
Violet
Violet Adamson
Violet Addams
Violet Myers
Violet Palmer
Violetta
Violetta CH
Violette V.
Virginia Bell
Virginia Simms
Vivian Blush
Vonnie Bean
Vyeta Mustafina Mnogo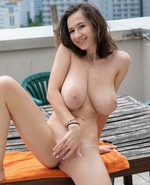 Stela of Abby Winters instantly blew my mind away, wow what a glorious shoot this slender lady with big boobs did for this site. She's the perfect example that Mother Nature can't be beaten. Not by plastic, doctors or artificial intelligence.  Enjoy her fully naked in the bathroom and on the balcony and feel privileged.